This page serves as a guideline to the order in which to read all of the novels, novellas and short stories of the Malazan World.
Several different options are listed.
Published Order:
Chronological Order:
Recommendation: The published order of the Malazan Book of the Fallen is the author's intended order and the best order in which to read this series for the first time.
Published Order and Chronological Order:
Recommendation: The published order of the Novels of the Malazan Empire is the author's intended order and the best order in which to read this series for the first time.
Published Order:
Chronological Order:
Recommendation: Chronological Order
Due to their haphazard publishing schedule and individually contained stories, these novellas' publishing order is vastly different from chronological order. Either way, Blood Follows serves as the first novella and is the best introduction to the novella series. Readers may find the story flows much more naturally if the novellas are read in chronological order rather than published order.
There are no major spoilers from any B&KB novella to any other. However, Crack'd Pot Trail is best read after The Lees of Laughter's End and The Healthy Dead due to the reappearance of some characters and concepts.
Bauchelain and Korbal Broach also appear in Memories of Ice and in Orb Sceptre Throne. For chronological order, Memories of Ice should be read after The Wurms of Blearmouth and before The Healthy Dead. It is unclear when exactly The Healthy Dead and Crack'd Pot Trail occur in relation to Orb Sceptre Throne, but as long as The Wurms of Blearmouth is read before Orb Sceptre Throne it doesn't matter.
Kharkanas Trilogy - prequels, take place thousands of years before events in either main series - by Steven EriksonEdit
Published Order:
Path to Ascendancy - prequels, take place many decades prior to events in either main series - by Ian C. EsslemontEdit
Published Order:
Title TBA - publication date TBA
Ultimate reading order suggested by members of the Malazan Empire ForumEdit
There are numerous ways that all the series of the Malazan World can be combined into a single read order. For first-time readers, care must be taken to avoid reading things too far out of chronological order such that events do not make sense, as well as avoiding any events being spoiled before reading through them happening.
There are two main discussion threads on the Malazan Empire forums for discussing possible read orders:
One is a spoiler free thread summarizing the result of the discussion about what to read first and providing a visual guide of what major spoilers exist between books (without revealing what those spoilers are) so new readers can devise their own read orders, if desired.
There is also a discussion thread with spoilers where members who have read all the books discuss what spoilers exist and what read orders are possible (both for new readers and re-reads).
For readers who want a single, sensible read order without going into discussion threads, the below is a read order recommended by many knowledgeable forum members which:
Includes all existing Malazan World books
Is in a sensible and logical order for first-time readers
Does not contain any spoilers being revealed before the events occur
Follows chronological order except where the authors intended not to
Doesn't go into novellas too early, so you have some time to immerse yourself in Gardens of the Moon and Deadhouse Gates

↓Main series

1. Gardens of the Moon
2. Deadhouse Gates

6. Memories of Ice
7. House of Chains

11. The Bonehunters
12. Reaper's Gale

15. Toll the Hounds

18. Dust of Dreams

20. The Crippled God

23. Forge of Darkness
24. Fall of Light
25. Walk in Shadow

Reading order diagram
Edit
A diagram showing the interaction between the varying books, devised by D'rek from the Malazan Empire Forum. You could use this to make up your own reading order.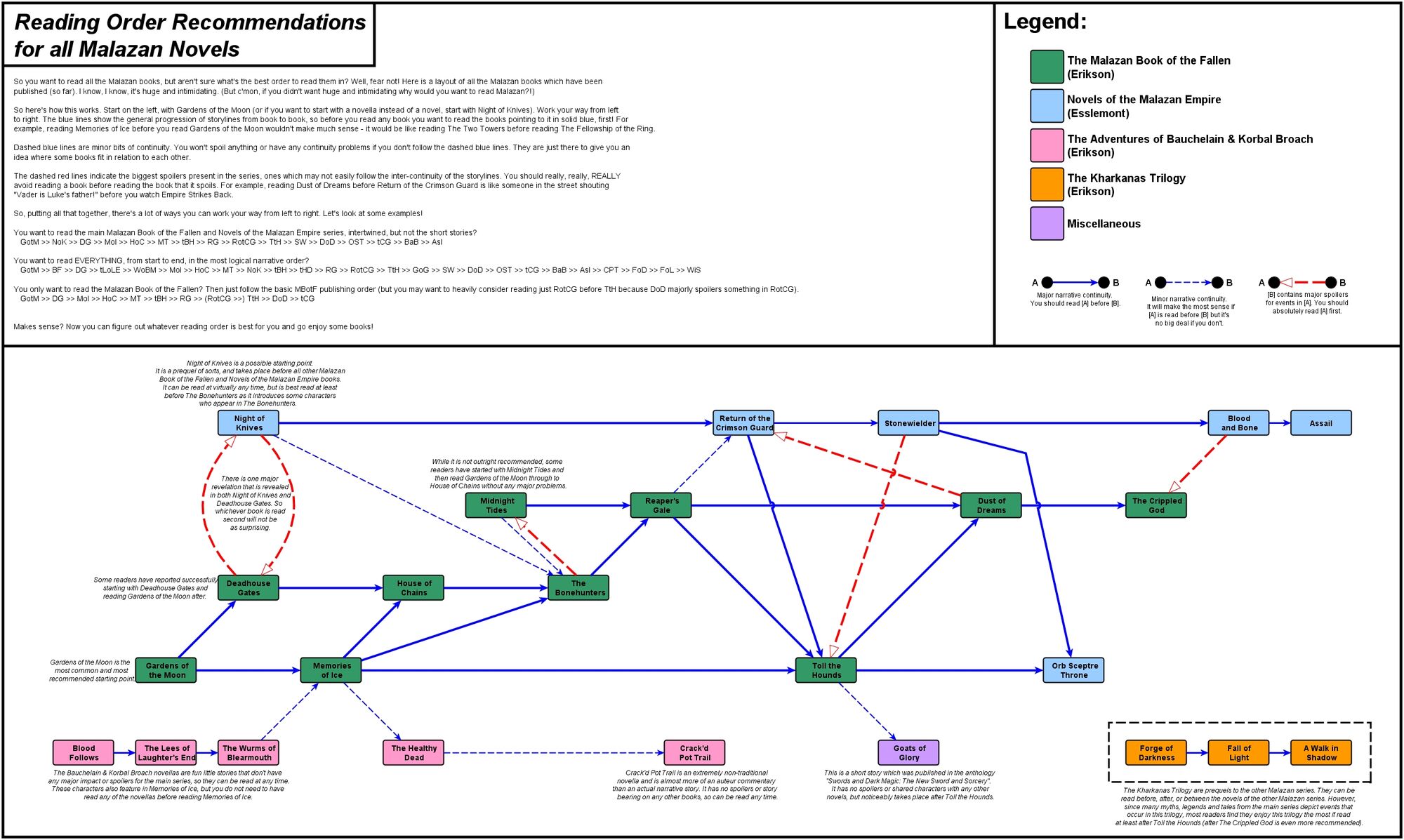 Ad blocker interference detected!
Wikia is a free-to-use site that makes money from advertising. We have a modified experience for viewers using ad blockers

Wikia is not accessible if you've made further modifications. Remove the custom ad blocker rule(s) and the page will load as expected.