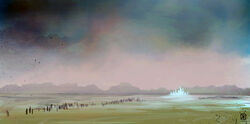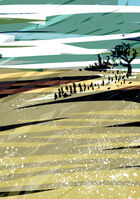 The Snake, also known as the Chal Managal, was a group of refugee children who had escaped from the righteous wrath of those they called the 'Quitters'. It was a manifestation of the goddess D'rek.

The children of the Snake escaped the ruins of their homeland, only to enter the Glass Desert. Though many had been killed as a result of their escape from the Quitters, even more died as they walked their way through the desert.
Eventually, the Snake found its way to Icarias, a city built by Icarium, but long abandoned near the heart of the Glass Desert. There, they found food and water, regaining some of their strength before setting out again.
The Snake eventually found the severely dehydrated Bonehunters who gave the children some of their last food and water. They were later adopted by the Khundryl Burned Tears.
Notable Members
Edit
Notes and references
Edit
Ad blocker interference detected!
Wikia is a free-to-use site that makes money from advertising. We have a modified experience for viewers using ad blockers

Wikia is not accessible if you've made further modifications. Remove the custom ad blocker rule(s) and the page will load as expected.