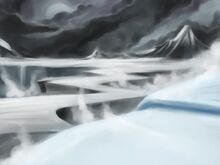 Omtose Phellack was the Warren[1] (Elder Warren) of the Jaghut, affiliated with the Ice Hold.
Within Omtose Phellack was a magical realm known as the Refugium.[2]
Omtose Phellack was said to bring the cold required to temper the fire and heat of life.
Omtose Phellack was a place in the Odhan of the Jaghut and referred to as the Empty City.[3] Haut talked about awakening the sorcery of Omtose Phellack.[4]
Notable Users (other than Jaghut)
Edit
Notes and references
Edit
Ad blocker interference detected!
Wikia is a free-to-use site that makes money from advertising. We have a modified experience for viewers using ad blockers

Wikia is not accessible if you've made further modifications. Remove the custom ad blocker rule(s) and the page will load as expected.