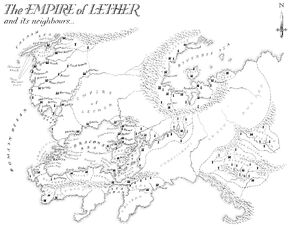 The continent of Lether (not to be confused with the Empire of Lether) was the setting for the novels Midnight Tides, Reaper's Gale, Dust of Dreams, and The Crippled God. It lay on the other side of the globe from the Malazan Empire. The mapped portion of the continent seen in Midnight Tides extended for over 600 leagues from north to south and for nearly 700 leagues from east to west. The map in Reaper's Gale was significantly larger in scope, but did not have a scale.
To the west of Lether lay the Domain Ocean. To the northwest was the Calash Sea, in the south lay the inland Dracons Sea, and to the northeast, the Bluerose Sea.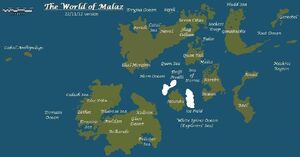 Notes and references
Edit
Ad blocker interference detected!
Wikia is a free-to-use site that makes money from advertising. We have a modified experience for viewers using ad blockers

Wikia is not accessible if you've made further modifications. Remove the custom ad blocker rule(s) and the page will load as expected.