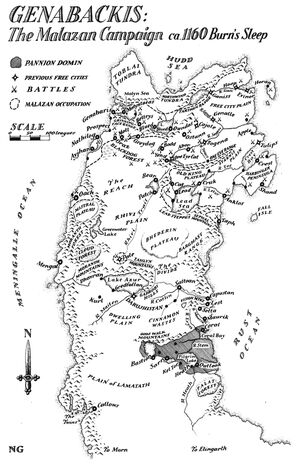 Genabackis was a continent where much of the plot in the first books of the Malazan Book of the Fallen series took place. It was one of the larger continents on the planet.
It was bound to the west by Meningalle Ocean, to the north by the Hudd Sea, and to the east by the Rust Ocean
The "Free Cities of Genabackis" was an alliance of cities attempting to thwart the Malazan Empire's intention to conquer the continent. The majority of them were subjugated. As of the beginning of Gardens of the Moon, only Pale and Darujhistan  remained unconquered by the Malazan Empire, although Pale was defeated early on in the book.
Notable Cities
Edit
Barghast – Tribal people of Imass descent
Daru – Urban people of northern Genabackis
Gadrobi – Indigenous people of central Genabackis
Moranth – Mysterious inhabitants of Cloud Forest
Rhivi – Plains-dwelling, nomadic people
Seguleh – a warrior people who inhabited an island south of Morn
Teblor – Thelomen Toblakai tribes





Geography
Edit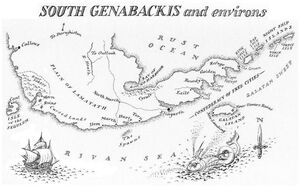 Unmapped Locations
Edit
Several places on Genabackis were mentioned in the Malazan Book of the Fallen, but did not appear on any published maps.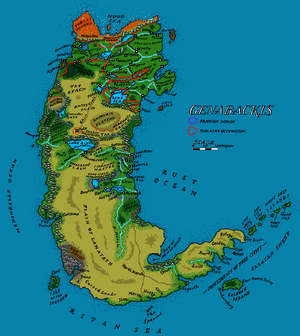 Notes and references
Edit