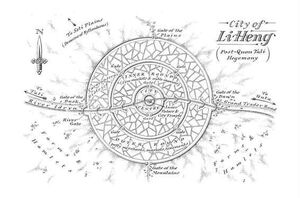 The Gate of the Plains, also called the Northern Plains Gate or the Gate of Doleful Regards, was one of the four gates of the city of Li Heng.[1] It faced north and was considered a wretched location for any business.[2]
During the Malazan civil war, Captain Storo Matash stood atop the wall near the Northern Plains Gate and watched refugees from the Seti plains filter into Li Heng.[3]
Notes and references
Edit
Ad blocker interference detected!
Wikia is a free-to-use site that makes money from advertising. We have a modified experience for viewers using ad blockers

Wikia is not accessible if you've made further modifications. Remove the custom ad blocker rule(s) and the page will load as expected.