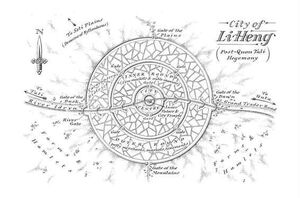 The Gate of the Dawn, also known as the Dawn Gate, was one of the two main gates of the city of Li Heng. Facing east, it formed a towering arch broad enough for four chariots to pass side by side down a long tunnel through a massive gatehouse. The city wall on either side was ten man-heights high and considered nearly invincible. Partially dismantled by thieves for building materials, it had recently been restored by builders overseen by Malazan military engineers.[1]
Just to the north of the gate was Executioner's Hill where criminals had been executed for 70 years.[2]
Notes and references
Edit
Ad blocker interference detected!
Wikia is a free-to-use site that makes money from advertising. We have a modified experience for viewers using ad blockers

Wikia is not accessible if you've made further modifications. Remove the custom ad blocker rule(s) and the page will load as expected.