Gardens of the Moon is the first novel in the Malazan Book of the Fallen epic fantasy series. It was written by Steven Erikson in 1992–1993 and first released on April 1, 1999 in Great Britain and Canada. It was later released in the United States on December 28, 2004, and has been re-released in multiple editions and in many countries.
Like all of Erikson's Malazan books it has multiple layered storylines that usually weave together. At the lower level is an eclectic group of Darujhistanies who are just trying to solve their own problems. Then there is the expansionist Malazan Empire whose armies and their allies the Moranth are trying to conquer the last remaining Free Cities of Genabackis; Pale and Darujhistan. Pale falls quickly to a massive sorcerous enfilade, but at the cost of many of Empire's best. The Malazans then turn to Darujhistan which proves much harder to take. At a higher level there is also a power-struggle at the top level of the Empire as the Empress tries to consolidate her reign. And above that still the Gods and Ascendants with their own machinations.
The book features a large cast of characters. With major focus characters being, on the Imperial 'side': Ganoes Paran, a young nobleman turned army officer; Whiskeyjack and his elite soldiers the Bridgeburners; Tattersail, a military sorceress and divinator and Adjunct Lorn, the Empress's personal agent. Opposite them are those of Darujhistan: Kruppe, Crokus and the rest of the Phoenix Inn Regulars and Baruk, the High Alchemist with the rest of the T'orrud Cabal. Meanwhile Anomander Rake in his floating mountain fortress: Moon's Spawn; Shadowthrone, the possibly insane ruler of the Warren of Shadow and Oponn, the Twin Jesters of Chance are the major featuring Ascendants who each have their own motives.
Publisher's summary
Edit
The Malazan Empire simmers with discontent, bled dry by interminable warfare, bitter infighting and bloody confrontations with the formidable Anomander Rake, lord of Moon's Spawn, and his Tiste Andii. Even the imperial legions, long inured to the bloodshed, yearn for some respite. Yet Empress Laseen's rule remains absolute, enforced by her dread Claw assassins.
For Sergeant Whiskeyjack and his squad of Bridgeburners, and for Tattersail, surviving sorceress of the Second Legion, the aftermath of the Siege of Pale should have been a time to mourn the many dead. But Darujhistan, last of the Free Cities of Genabackis, yet holds out and it is to this ancient citadel that Laseen turns her predatory gaze.
However, it would appear that the Empire is not alone in this great game. Sinister, shadowbound forces are gathering as the gods themselves prepare to play their hand...
Front matter
Edit
Dedication
Edit
This novel is dedicated to I. C. Esslemont.
Worlds to conquer, worlds to share.
Acknowledgements
Edit
No novel is ever written in isolation. The author wishes to thank the following for their support over the years: Clare Thomas, Bowen, Mark Paxton-MacRae, David Keck, Courtney, Ryan, Chris and Rick, Mireille Theriacelt, Dennis Valdron, Keith Addison, Susan, David and Harriet, Clare and David Thomas Jr, Chris Rodell, Patrick Carroll, Kate Peach, Peter Knowlson, Rune, Kent and Val and the kids, my tireless agent Patrick Walsh, and Simon Taylor, one terrific editor.
Show other languages
Publisher
Format/Edition
First published
Pages
ISBN-10
ISBN-13
UK and Commonwealth — Gardens of the Moon
Bantam
Trade paperback
1 Apr 1999
523
0593044703
978-0593044704
Bantam
Mass market paperback
16 Mar 2000
736
0553812173
978-0553812176
Bantam
Mass market paperback, special edition
12 Feb 2008
768
0553819577
978-0553819571
Bantam
Hard cover, 10th anniversary edition
5 Nov 2009
544
0593065069
978-0593065068
United States — Gardens of the Moon
Tor
Hard cover
Jun 2004
496
0765310015
978-0765310019
Tor
Hard cover, Science Fiction Book Club
Jun 2004
640
0765310015
978-0765310019
Tor
Mass market paperback
Jan 2005
688
0765348780
978-0765348784
Tor
Hard cover, library binding
9 May 2008
688
1435270282
978-1435270282
Subterranean Press
Hard cover
30 Jun 2008
560
1596061456
978-1596061453
Tor
Trade paperback, 10th anniversary edition
12 May 2009
496
0765322889
978-0765322883
German — Die Gärten des Mondes
Blanvalet
Trade paperback
1 Aug 2000
800
3442249325
978-3442249329
Bulgarian — Лунните градини
Bard
Trade paperback
11 Oct 2004
624
9844831048
978-9545840197[1]
Czech — Měsíční zahrady
Talpress
Trade paperback
2002
576
8071971936
978-8071971931
Talpress
Trade paperback, reprint edition
4 Apr 2008
576
8071971936
978-8071971931
Dutch — De Tuinen van de Maan
J. M. Meulenhoff
Hard cover
May 2000
599
9029066431
978-9029066433
Luitingh Fantasy
Trade paperback
Jul 2008
607
902452847X
978-9024528479
French — Les Jardins de la lune
Buchet Chastel
Trade paperback
16 Mar 2001
592
2283018404
978-2283018408
Calmann-Levy
Trade paperback
22 Aug 2007
586
2702137784
978-2702137789
Hungarian — A Hold udvara
Alexandra
Hard cover
2003
493
9633684552
978-9633684559
Italian — I Giardini della Luna
Armenia
Hard cover
2004
602
8834417429
978-8834416808
Polish — Ogrody Księżyca
Mag
Trade paperback
Oct 2000
604
8387968366
978-8387968366
Mag
Hard cover, collector's edition
2004
598
8389004755
978-8389004758
Romanian — Gradinile Lunii[2]
Tritonic
Paperback
May 2008
544
9737332296
978-9737332295
Russian — Сады Луны (Sady Luny)
ACT
Hard cover
2002
704
5170110146
978-5170173105
EKSMO
Hard cover
2007
768
5699206337
978-5699206339
Spanish — Los jardines de la Luna
Timun Mas
Hard cover (part 1)
Oct 2004
300
8448033876
978-8448033873
Timun Mas
Hard cover (part 2)
Oct 2004
320
8448033884
978-8448033880
Idea Factory
Trade paperback
11 Nov 2009
512
8498005094
978-8498005097
Introduction
Edit
Now these ashes have grown cold, we open the old book.
These oil-stained pages recount the tales of the Fallen,
a frayed empire, words without warmth. The hearth
has ebbed, its gleam and life's spark are but memories
against dimming eyes - what cast my mind, what hue my
thoughts as I open the book of the Fallen
and breathe deep the scent of history?
Listen, then, to these words carried on that breath.
These tales are the tales of us all, again yet again.
We are history relived and that is all, without end that is all.[3]
Plot summary
Edit
The novel opens in the 96th year of the Malazan Empire, during the final year of the Emperor Kellanved
Young Ganoes Paran witnesses the sacking of the Mouse Quarter of Malaz City, where Surly, commander of the Malazan Claw (intelligence organisation), is flushing out unregistered sorcerers and executing them. Paran also witnesses a confrontation between Surly (now calling herself Laseen, or 'Thronemaster') and Whiskeyjack, commander of the Malazan 3rd Army, where their mutual dislike is confirmed. Paran wants to be a soldier when he grows older, to Whiskeyjack's disapproval.
Epigraph
...In the eighth year the Free Cities of Genabackis established contracts with a number of mercenary armies to oppose the Imperiums advance; prominent among these were the Crimson Guard, under the command of Prince K'azz D'Avore (see Volumes III & V); and the Tiste Andii regiments of Moon's Spawn, under the command of Caladan Brood and others.
    The forces of the Malazan Empire, commanded by High Fist Dujek Onearm consisted in that year of the 2nd, 5th and 6th Armies, as well as legions of Moranth.
    In retrospect two observations can be made. The first is that the Moranth alliance of 1156 marked a fundamental change in the science of warfare for the Malazan Imperium, which would prove efficacious in the short term. The second observation worth noting is that the involvement of the sorcerous Tiste Andii of Moon's Spawn represented the beginning of the continent's Sorcery Enfilade, with devestating consequences.
    In the Year of Burn's Sleep 1163, the Siege of Pale ended with a now legendary sorcerous conflagation…
Imperial Campaigns 1158 – 1194
Volume IV, Genabackis
Imrygyn Tallobant (b.1151)
Seven years have passed. Laseen now rules as Empress. Two new demigods (Ascendants) have appeared in the pantheon, Ammanas (Shadowthrone) and Cotillion (The Rope), who have seized control of the House of Shadow and are now plotting the death of Laseen. Cotillion possesses a young fishergirl living in the Itko Kan province of the Quon Tali continent and has her join the Malazan 2nd Army, under the name of Sorry, fighting on the Genabackis continent, as part of a long-range scheme to get her close to the Empress. Ammanas unleashes the terrifying Hounds of Shadow to wipe out a nearby Malazan cavalry regiment to draw attention away from the sorcery used in the area. Adjunct Lorn, personal aide to the Empress, is not fooled and recruits Ganoes Paran, now a lieutenant, to help her track down the missing fishergirl.
1163 BS, two years later. The Malazan 2nd Army under High Fist Dujek is besieging the city of Pale, one of only two Free Cities left in the Malazans' path. Pale is holding out thanks to an alliance with the powerful Anomander Rake, Lord of Moon's Spawn (a floating fortress), commander of the non-human Tiste Andii race, and his own allies, Prince K'azz D'Avore of the Crimson Guard and the powerful human warlord Caladan Brood and his troops. D'Avore, Brood and their troops have been drawn off to the north by renewed efforts of the Malazan 5th Army to capture Blackdog Forest, leaving Rake vulnerable to attack. The decision is made to attack Moon's Spawn. Tayschrenn, the most senior mage in the Malazan Empire, takes advantage of the attack to kill two of Empire's High Mages: Nightchill and A'Karonys. Of the mages involved in the attack only Tayschrenn and Tattersail, commander of the 2nd's mage cadre, survive. Moon's Spawn is driven off in the battle and flees to the south. Pale falls and the Malazans' allies, the Moranth (creators and suppliers of explosives), sack the city. Unbeknown to Tayschrenn, the Bridgeburners (an elite sapping unit, of whom the demoted Sergeant Whiskeyjack is de facto commander) manage to save the soul of a dying mage, Hairlock, and transfer it to a new vessel, that of a puppet. Tattersail agrees to help them expose Tayschrenn's treachery.
During the same period, Ganoes Paran has been traveling by ship to Genabackis. Topper, the Clawmaster visits Paran via Warren delivering orders for him to take command of the Bridgeburners. Arriving at Genabaris Paran travels by Quorl (a flying creature) with the Green Moranth to Pale.
Dujek is sending the Bridgeburners to Darujhistan, last surviving of the Free Cities, to lay the groundwork for the Malazan attack. The newly-promoted Captain Ganoes Paran arrives to take command of the squad, but is almost immediately assassinated by Sorry. Oponn, God of Luck, intervenes and arranges for Paran to survive. The Bridgeburners leave for Darujhistan without him.
Tattersail helps Paran return to health. Whilst there, Paran foils an attack on the sorceress by a Hound of Shadow.
Darujhistan
Edit
Epigraph
What windfall has brushed our senses?
This rocking thunderhead that scraped
the lake's placid waters
and spun a single day's shadows
like a wheel that rolled us
from dawn to dusk, while we
tottered our tender ways…

What windlass crackles dire warnings?
There in the gentle swells that tossed
a bobbing cork our way
with its fine magenta scent wafting
like a panoply of petals
that might be ashes
in twilight's crimson smear…
Rumour Born
Fisher (b.?)
Kruppe is having one of his dreams. In it he tells his audience of beggars that the coin will fall that night.
Crokus Younghand robs the D'Arle estate at about the same time as one of the members of Darujhistan's Assassins' Guild, Talo Krafar is ambushed by an unknown foe. As Crokus makes his getaway, Talo, who is mistaking the thief for his assailant, takes a shot at him. At that very moment, Crokus hears a coin fall and bends to pick it up, which saves his life. He is then pursued by those who attacked and killed Talo, escaping again and again through sheer luck. His pursuers come to the conclusion that an Ascendant is meddling.
Circle Breaker, a spy for The Eel, observes a meeting between Turban Orr and councilman Feder.
The Great Raven Crone visits the alchemist Baruk on behalf of Anomander Rake to arrange a meeting between them. Whilst there, Baruk allows her to observe as councilman Orr calls on him. Orr wants Baruk to support his intention of issuing a proclamation of neutrality. The alchemist declines and Orr tells him that even without his support the motion will be passed as he has secured a majority in favour.
To avenge a friend, Rallick Nom lies in wait to kill Lady Simtal but at the last minute, influenced by Oponn, kills her lover, the Councilman Lim instead. This inadvertently scuppers Orr's plans as he no longer has a majority.
In the meantime, more members of the Assassin's Guild have come under fire from unknown assailants.
Anomander Rake visits Baruk and agrees to an alliance with him and his fellow Cabal members.
The Mission
Edit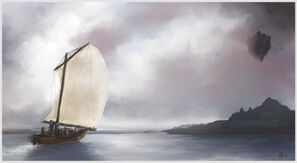 Epigraph
Marionettes dance afield
beneath masterly hands —
I stumble among them
crossed by the strings
in tangled two-step
and curse all these fools
in their mad pirouette —
I shall not live as they do
oh, no, leave me in my
circled dance —
these unbidden
twitchings you see
I swear on Hood's Grave
is artistry in motion
Sayings of the Fool
Theny Byle (b.?)
Whiskeyjack and his squad have been dropped on the northern shore of Lake Azur. Deeming the given plan suicidal, he informs them that they will implement his own plan to infiltrate and bring down Darujhistan. Quick Ben, using his Warren, meets Hairlock who updates him about events in Pale. Afterwards, Quick proposes something to Whiskeyjack and Kalam which shakes both of them. The Bridgeburners then set about crossing the lake
On the Rhivi Plain, Toc the Younger comes across the site of a battle between the guards of Adjunct Lorn and a group of Barghast. The Adjunct and her remaining guards are making a stand but are not faring well. Lorn is saved by the arrival of Onos T'oolan and Toc who has followed her trail. Lorn is angry that the T'lan had not met up with her days earlier. Toc and the Adjunct ride double back to Pale, leaving Onos to make his own way.
Tattersail and Paran exchange what little information about the current situation they have and talk about how Paran got there.
Lorn meets with Dujek and they discuss local politics and the military campaign. Lorn has a private meeting with Tayschrenn where she passes on the displeasure of the Empress with the un-subtle way Tayschrenn handled the attack on Moon's Spawn. Their discussion reveals that the Empress is getting rid of the Old Guard and that Tayschrenn is helping her in that. Dujek however is one of the exceptions and is not to be touched. Tayschrenn informs Lorn that Oponn may have entered the fray and might be involving themselves in events in Darujhistan.
Tattersail realizes that Paran knew about Lorn's coming and that he works for her.
Lorn is sure that Tattersail is the sorceress responsible for the death of her parents and at dinner that evening challenges her. The situation is diffused by Dujek and Tayschrenn who remind Lorn that she is the Adjunct and has to leave behind her personal feelings. Tattersail is shaken by the encounter but has her morale subtly strengthened by Toc who is also present. She returns to her quarters and confronts Paran about her earlier suspicions. After a frank exchange Paran asks Tattersail to be his lover.
Lorn leaves Pale and meets up with Onos T'oolan who reveals much about the T'lan Imass to her.
Crone flies high over the Rhivi Plain on her way to Caladan Brood.
Toc convinces Paran that the Adjunct's mission is not isolated to Sorry. They decide to catch-up to Tattersail, who has already left for Darujhistan to warn Whiskeyjack. Due to Tool's Elder powers being in the area, travelling by Warren is becoming too difficult for Tattersail. She emerges on the Rhivi Plain and is confronted by Bellurdan. He does not believe her opinion that Tayschrenn and the Adjunct plan to raise a Jaghut Tyrant. Their fight ends in a conflagration which also takes in the remains of Nightchill. From a distance, Tool identifies a number of Warrens opened by Tattersail and Bellurdan, including Starvald Demelain, the First Elder Warren. He senses a new presence. Paran and Toc later come across what remains of Bellurdan and Tattersail; Toc finds tracks of a child-like being heading north-east.
Crone reports to Caladan Brood in the Blackdog Forest about events on the Rhivi Plain and Darujhistan. Brood's forces are winning against the Empire. Two days after Tattersail's battle with Bellurdan, Crone survives an encounter with Hairlock who has been incinerating Great Ravens with his Chaos Warren as he heads towards Darujhistan.
Tool and the Adjunct witness the flight of Crone. Tool cautions her over complacency against the unknown powers.
Assassins
Edit
Epigraph
I dreamed a coin
with shifting face —
so many youthful visages
so many costly dreams,
and it rolled and rang
'round the gilded rim
of a chalice
made for gems
Life of Dreams
Ilbares the Hag
Anomander Rake sends Tiste Andii mage assassins to take out Darujhiustan's guild assassins. Quick Ben releases a demon, but it gets killed in minutes by the skilled mage assassins and Rake.
Also, Crokus visits the D'Arle girl and returns her jewels. After a discussion, she lets him go. Sorry watches him.
The Gadrobi Hills
Edit
Epigraph
Beyond these thin hide walls
a child sits, before her on worn silk
a Deck is arrayed.
She cannot yet speak
and the scenes before her
she's never before seen in this life.
The child gazes upon a lone card
named Obelisk, the stone grey
she can feel its roughness in her mind.
Obelisk stands buried in a grassy knoll
like a knuckle protruded
from the earth, past and future.
This child's eyes are wide
with terror, for cracks have appeared
in the stone of stones and she knows
the shattering is begun.
Silverfox
Outrider Hurlochel,
6th Army
The City of Blue Fire
Edit
Epigraph
Rumours like tattered flags
wind-snapped and echoing
in the streets below
told the tale of the days upon us…
'Twas said an eel had slipped ashore
or not one but a thousand
under a jagged moon that might be dead,
'twas whispered that a claw scraped slow
on the city's cobbles, even as a dragon
was seen sailing high silver and black in the night sky.
'Twas heard, they say, a demon's death cry
on the rooftops on a night of blood, even
as the master's hundred hands lost
a hundred daggers to the dark,
and 'twas rumoured then, a lady
masked highborn had offered to unbidden guests
a fête to remember…
Rumour Born
Fisher (b.?)
Epigraph
The Flaying of Fander, She-Wolf of Winter, marks the Dawn of Gedderone. The pristesses race down the streets, strips of wolf-fur streaming from their hands. Banners are unfurled. The noises and smells of the market rise into the morning air. Masks are donned, the citizens discard the year's worries and dance across the day into the night.
    The Lady of Spring is born anew.
    It is as if the gods themselves pause their breath...
Faces of Darujhistan
Maskral Jemre (b.1101)
As the novel ends Crokus, a Bridgeburner named Fiddler and the Bridgeburner assassin Kalam volunteer to take the former Sorry (now called Apsalar) back to her homeland of Itko Kan and they depart (their story continues in Deadhouse Gates). Meanwhile, the 2nd Army has rebelled against Laseen's increasingly unrealistic commands. Now called Dujek's Host, the 2nd Army has called for a truce with the Tiste Andii and the Crimson Guard. Dujek is also concerned about the declaration of Holy War called by the Pannion Seer, whose empire is advancing from the south-east of Genabackis. Darujhistan has evaded conquest by the Malazan Empire, for now, but may be in danger from this new threat. Elsewhere, it is confirmed that Seven Cities has begun a mass-uprising against the Empire.
Although published in 1999, the novel was written in 1991–1992, eight years before the rest of the series and a number of minor inconsistencies can be found between this volume and the following. Orfantal, one of the Tiste Andii, changes gender between Gardens of the Moon and Memories of Ice, and the pre-ritual T'lan Imass are referred to as the T'lan, whilst the correct name is Imass. The former error was corrected in the US edition of the novel, but the latter one was not.
The novel first saw life as a feature film script co-written by Erikson and Malazan co-creator Ian C. Esslemont. According to Erikson, the script primarily covered the events occurring in the last quarter of the eventual novel as well as the assassins' rooftop fighting sequence from earlier in the book. The tone was also quite different, with Erikson saying, "we were thinking along the lines of 1001 Nights, Indiana Jones style of humour… It's deadpan jokes all the way through, that kind of thing." After failing to sell the script, Erikson began reworking the story as a novel and the Gardens of the Moon film script was eventually lost. Erikson and Esslemont also produced a second film script titled Blackdog Blues. A prequel to Gardens of the Moon, it covered the Malazan Genabackan campaign. The script still exists, but only on a large floppy disk and is compatible with an obsolete word processing program.[4][5]
Cover gallery
Edit
Notes and references
Edit
External links
Edit
Ad blocker interference detected!
Wikia is a free-to-use site that makes money from advertising. We have a modified experience for viewers using ad blockers

Wikia is not accessible if you've made further modifications. Remove the custom ad blocker rule(s) and the page will load as expected.