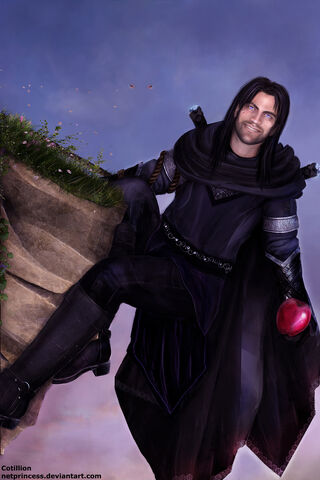 Cotillion by Aranict
Artist's comments:
Cotillion, nicknamed 'The Rope' ,formerly known as Dancer, Patron God of Assassins and member of High House Shadow. Definitely my favourite character out of the Malazan Book Of The Fallen by Steven Erikson.
The pic is a tribute fro the sixth book in the series , The Bonehunters, where Kalam is asking the God for help in a tight spot:

[...] He resumed his search for projections for the rope. And could see none. 'All right, I guess it's time. Cotillion, consider this a sharp tug on your rope. No excuses, you damned god, I need your help here.' He waited. The moan of the wind, the slippery chill of the mist. 'I don't like this warren.' Kalam turned his head to find Cotillion alongside him,one hand and one foot holding the god in place. He held an apple in the other hand, from which he now took a large bite. 'You think this is funny?' Kalam demanded. Cotillion chewed, then swallowed. 'Somewhat.' 'In case you hadn't noticed, we're clinging to a sky keep, and it's got companions, a whole damned row of them.' 'If you needed a ride,' the god said, 'you'd be better off with a wagon, or a horse.' 'It's not moving. It stopped. And I'm trying to break into this one." Cotillion examined the apple, then took another bite. 'My arms are getting tired.' Chewing. Swallowing. 'I'm not surprised, Kalam. Even so, you will have to be patient." 'You're enjoying this way too much, Cotillion.' 'The opportunities for amusement grow ever rarer. Fortunately, we're in something like this keep's shadow, so our descent will be relatively easy.' 'Any time.' Cotillion tossed the apple aside, then reached out to grasp Kalam's upper arm. 'Step away and leave the rest to me.' A sharp tug, and Kalam bellowed as he was snatched out from the rockface. And was held, suspended in the air by Cotillion's grip on his arm. 'Relax, you damned ox, "easy" is a relative term!'.
    The Bonehunters, Chapter 6. ( Kalam Mekhar's POV - summarized)
Licensing
Edit
This file was uploaded by the photographer or author.
Appears on these pages

of
Cotillion also called The Rope, was the companion of Shadowthrone and the Patron God of...

See also: Poll, Nominations, and Gallery of all images The list of images which have appeared on...
File history
Click on a date/time to view the file as it appeared at that time.
Metadata
Ad blocker interference detected!
Wikia is a free-to-use site that makes money from advertising. We have a modified experience for viewers using ad blockers

Wikia is not accessible if you've made further modifications. Remove the custom ad blocker rule(s) and the page will load as expected.