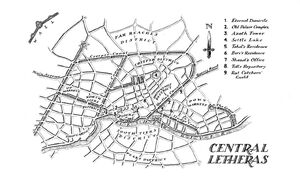 The Eternal Domicile was the newer palace complex in the city of Letheras. It was meant to comprise five wings but only three had been completed. The other two proving problematic and prone to sinking into the clay beneath. The name was rather ironic as the whole structure was slowly sinking.
"Five wings to the Eternal Domicile, of which only three were complete. Each of the latter consisted of wide hallways with arched ceilings sheathed in gold-leaf. Between elaborate flying buttresses to either side and running the entire length were doorways leading to chambers that would serve as offices and domiciles of the Royal Household's administrative and maintenance staff. Towards the centre the adjoining rooms would house guards, armouries and trapdoors leading to private passages - beneath ground level - that encircled the entire palace that was the heart of the Eternal Domicile."
―description of the Eternal Domicile
Notes and references
Edit
Ad blocker interference detected!
Wikia is a free-to-use site that makes money from advertising. We have a modified experience for viewers using ad blockers

Wikia is not accessible if you've made further modifications. Remove the custom ad blocker rule(s) and the page will load as expected.