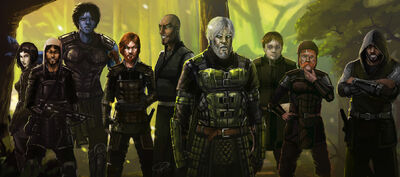 Detoran was a huge, dark-skinned Napan with the 7th Squad of the Bridgeburners.[1] She used to be a Master Sergeant before being busted down like many of the Bridgeburners.[2]
Detoran had a crush on Hedge. It was not clear how willing a participant Hedge was in their relationship.[3] Picker thought her capable of standing toe to toe with Trotts.[4]
After Dujek Onearm's army went renegade, the decimated Bridgeburners were reorganised and placed under Captain Ganoes Paran. Like many of the other Bridgeburners, Detoran was not pleased with the change in command.[5]
Cadre mage Spindle led Detoran, Blend, Hedge, Picker, and Trotts into Caladan Brood's command tent to steal Fiddler and Hedge's old card table. Rigged to win card games using the Deck of Dragons, it had been lost as a spoil of war when the Bridgeburner camp in Mott Wood was overrun. Spindle and the squad soon put the table back into action to swindle their fellow soldiers. But the presence of a new and heretofore unknown Master of the Deck card caused the plan to backfire, lightening their own purses.[6]
Detoran was killed during the Pannion War in the siege of Coral after being mortally wounded by several Pannion soldiers. She was interred in Moon's Spawn.[7]
Like the other Bridgeburners, Detoran ascended into High House Death.
Notes and references
Edit
Ad blocker interference detected!
Wikia is a free-to-use site that makes money from advertising. We have a modified experience for viewers using ad blockers

Wikia is not accessible if you've made further modifications. Remove the custom ad blocker rule(s) and the page will load as expected.