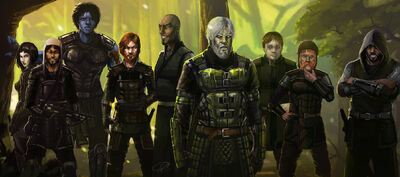 Detoran was a huge, dark-skinned Napan with the 7th squad of the Bridgeburners.[1] She used to be a Master Sergeant before being busted down like many of the Bridgeburners.[2] She had a crush on Hedge. It was not clear how willing a participant Hedge was in their relationship.[3]
Detoran was killed during the Pannion War in the siege of Coral after being mortally wounded by several Pannion soldiers. She was interred in Moon's Spawn.[4]
Like the other Bridgeburners, Detoran ascended into High House Death.
Notes and references
Edit
Ad blocker interference detected!
Wikia is a free-to-use site that makes money from advertising. We have a modified experience for viewers using ad blockers

Wikia is not accessible if you've made further modifications. Remove the custom ad blocker rule(s) and the page will load as expected.